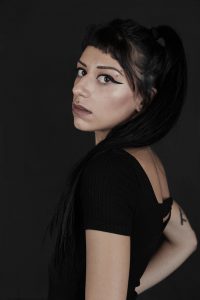 Valentina Cappelletti is a certified make-up artist based in Turin.
Graduated in foreign languages (English, French and Spanish) some years ago, she got certified at Abbey School too.
Her love for make-up – remarkable from a very early age – is then cultivated and realized attending the MBA Making Beauty Academy in Turin, with great professionals and it is constantly updating.
At the origin of her path there are the love for beauty and for every form of art and human feeling expression.
Listening and communication are important aspects, considering in fact the power of make-up not only as a form of art and self expression but also as an instrument to obtain more self-confidence.
She is now collaborating with photographers and videomakers for photoshoots, editorials and videos but she also works for fashion shows, events, weddings, bodypaintings and plays.
Valentina Cappelletti è una make-up artist certificata di Torino.
Diplomata in lingue (inglese, francese e spagnolo) alcuni anni fa, si certifica in seguito alla Abbey School.
La passione per il trucco – notevole sin dall'infanzia- viene poi coltivata e concretizzata frequentando il corso annuale di trucco artistico alla MBA Making Beauty Academy di Torino con grandi professionisti del settore ed'è in continuo aggiornamento.
Alla radice del suo percorso ci sono l'amore per il bello e per ogni forma di arte e di espressione del sentimento umano.
L'ascolto e la comunicazione sono aspetti importanti considerando infatti il potere del make-up sia come forma d'arte ed espressione personale che come strumento per acquisire maggiore fiducia in se stessi.
Collabora con fotografi e videomaker per shooting fotografici, editoriali e video ma si occupa anche di sfilate, eventi, matrimoni, bodypainting e spettacoli.