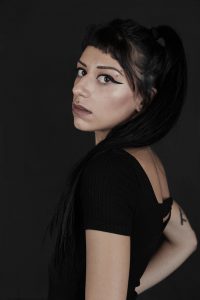 Valentina Cappelletti is a certified make-up artist based in Turin.
Her love for make-up – remarkable from her childhood – kept growing, and after graduating in languages, it  was realized attending the Annual Artistic Make-up Course at MBA Making Beauty Academy in Turin, with great professionals.
At the origin of her path there is the love for beauty and for every form of art and human feeling expression.
Listening and communication are important aspects, considering  the power of make-up not only as a form of art and self expression but also as an instrument to gain more self-confidence. After all, to look good in front of the mirror, makes us feel good, and that's all her mission is about.
She is now collaborating with photographers and videomakers for photoshoots, editorials and videos but she also works at fashion shows, events, weddings, bodypaintings and plays.
Valentina Cappelletti è una make-up artist certificata di Torino.
La passione per il trucco – notevole sin dall'infanzia- cresce costantemente negli anni e dopo il diploma in lingue, si concretizza frequentando il corso annuale di trucco artistico alla MBA Making Beauty Academy di Torino con grandi professionisti del settore.
Alla base del suo percorso ci sono l'amore per il bello e per ogni forma di arte e di espressione del sentimento umano.
L'ascolto e la comunicazione sono aspetti fondamentali, considerando il potere del make-up come forma di espressione sia artistica che personale, oltre che come strumento per acquisire maggiore fiducia in se stessi. Del resto, vederci bene davanti allo specchio ci fa sentire bene, ed'è proprio di questo che la sua missione si tratta.
Collabora con fotografi e videomaker per shooting fotografici, editoriali e video ma si occupa anche di sfilate, eventi, matrimoni, bodypainting e spettacoli.